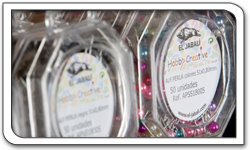 Folch creates and develops products for the following markets: clothing and sports industries, haberdashery, bobbin lace and art crafts. For each of these markets, Folch has developed specific products including straight pins, shirt clips, safety pins, dressmaker or sewing pins, sequin pins, fishing lures and kids' craft kits and accessories.

Folch's products can be used by some industries (electronic, medical and hardware,etc) as part of the finished products or as part of the process. Folch's pins can also be used for many other purposes such as insect collecting and boat modeling.

All Folch's products are made with the finest materials available and the most updated technology. Folch uses the hardest wire available on the market to produce firm and durable brass, steel and stainless steel pins.

Folch produces straight pins and safety pins as well as special badge pins and thimbles for haberdashery, wholesalers, and retails. Straight pins developed for haberdashery and industry are mainly four types: stainless steel pins used for industries, fishing lures, and some crafts, brass pins used also for industrial applications and some hobbies, mild steel pins (also used for home crafts and shops window dressing) and hardened and tempered pins used for sewing and dress making.

The company has a Hobby Creative division with a selection of pins designed for art and craft activities including patchworks, home and florist decorations. Folch has also helped with the resurgence of bobbin lace as a hobby/activity with a wide range of pins designed for this industry. Experience, pillow shapes, design techniques, weaving threads and different country traditions were taken into consideration in the development of the lace industry's pin catalogue.

Pins and clips for the clothing industry have been used for two main purposes: shirt packing and shirt presentation.

The pins and accessories for the window dressing have been used for two main purposes, decorating shop windows (to hold the clothes into the wall or mannequin (mild steel pins) and adjusting cloth for tailoring and adjustments to clothing (hardened and tempered pins).

Our finishing processes are one of the most important properties that our pins have namely
Stainless steel Bright polish.
Brass Nickel plated, polished, gold, coppered
Hardened and tempered Nickel plated, or gold
Mild steel Nickel plated, brass plated, coppered,
Safety pins Nickel plated, brass plated, black, plus 8 colors

Folch has developed this year the Color-dome pins, straight pins with color dome heads that will help users in their use and identification.

We have a range of colors and sizes for our Color-dome straight pins. The standard color chart for our Color- dome pins has 13 colors.

Folch has also developed creative kits designed to stimulate children's intellectual development and creativity.

In addition to the large selection of products that Folch creates, the company can also produce custom crossover clips or style (minimum purchase required). Brass and stainless steel clips can be produced with a company's logo or brand name on the wire.