Folch European Pin Manufacturer - Company History
Metalurgica Folch was founded in 1924 on its existing site in Montbrió, Spain and it is currently the largest steel pin maker in Europe.
Since their ancient beginnings, prehistoric people used thorns as pins. In ancient Egypt, pins were crafted from bronze. The clothes of medieval Europeans were adorned with pins made from bone, ivory, silver, and gold.
Sewing pin manufacturing started in England in the eighteenth century. It is estimated that there were more than one hundred small domestic pin suppliers in England around 1760. In those times the pins were made by hand. There were workers who specialized on the wire redrawing, straightening, cutting, attaching the head, sharpening the point, polishing and inserting in paper.
At the dawn of the Industrial Revolution in the eighteenth century, noted economist Adam Smith employed the imagery of a pin manufacturer as the perfect example of the intricate division of labor in his book Wealth of Nations published in 1776.
In 1820 there were eleven domestic pin suppliers in Gloucester employing 1,500 people out of a total population of 7,500. In the early to mid 1800's, American inventors Seth Hunt, John Ireland Howe, and British inventors Lemuel Wright and Daniel Foote Taylor patented machines that produced sewing pins with a solid head from a single piece of wire. These events resulted in an end to the pin industry in Gloucester by 1870. By 1939 there were only about twelve manufacturers in the United Kingdom and now all are gone.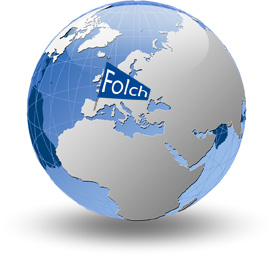 Folch is the largest European stainless steel head pin producer and sewing pin maker
Folch was started in 1924 by Pedro Folch Torné, our first company name was Industrias Metalurgicas Pedro Folch Torné, and the facilities were located at the same building where Folch's domestic pin supply facility resides today. The manager was Pedro Folch Torné and his son Pere Folch Badia was an engineer and the plant's technical manager. Oleger Folch, grandfather to the current owner (Jordi Folch), was the personnel manager.
Folch's mission was to make this company Europe's best high grade straight pin manufacturer and the first products made by Folch were straight steel pins; made in steel and brass quality, thimbles, belts, and others metal accessories.
The Brand name "El Jabali" was registered on November 26, 1926, and the wild boar was linked to the haberdashery market and to hardened tempered and steel pins. The Brand name "San Jorge" was registered on April 2, 1928 to produce brass articles and dressmakers pins to the dressmaking and clothing manufacturing industries. The Saint George logo was linked to the shirt makers and garment business with the brass, steel, and stainless steel head pins, and shirt clips.The Brand name "El Buitre" was registered on September 30, 1927 and it has been our logo ever since. The first golden age of Metalurgica Folch as a high grade straight pin manufacturer was around the 1950s, when there were more than 120 employees which represented most of the people of the town.

Through the years, Folch has gained the status of a global leader in the stainless steel pin manufacturing industry, and shirt clips. That's the result of the commitment to the excellence that Folch's team has had all these years.
The company produces a wide range of pins to serve unique needs in different industries. Today Folch produces safety pin for arts and crafts including safety pin jewelry & earring for hobbies and craft arts. Folch also produces straight pins, dressmakers and lace pins for different trades.
Domestic Pin Supplier - Staff Bios
Jordi Folch – President since 1980
He brings with him, experience and a technical background which keeps the Company at the forefront of pin manufacturing with all its auxiliary processes from wire drawing to packaging.
Josep Folch – Vice President
He received a B.S. in Management Engineering from Barcelona Polytechnic University. From 1989 – 1991 he worked in a consultancy management company located in Barcelona. From 1990 – 1991 he worked in the Oficina Comercial de la Embajada de España in Los Angeles, California promoting exports. Since 1991 he has been promoting the national and export markets, and developing and creating new products and applications for the company.