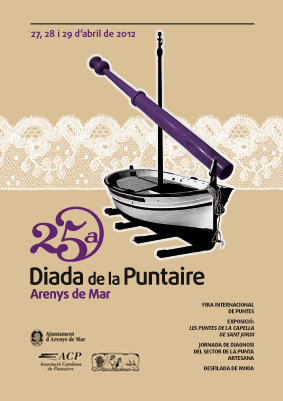 For the twenty-fifth time, Folch participated in the open lace day in Arenys de Mar, Barcelona organized by the Associació Catalana de Puntaires, (Catalan Lace Association) and the Arenys City Hall
On 27th, 28th and 29th of April, 2012, the Mediterranean seaside town of Arenys de Mar hosted one of the most important events in the world of lacemaking. More than 3.000 lacemakers gathered at the main street of the town to show the secrets of this art which has over four hundred years of history in our country. Besides this meeting, there were be a number of different activities such as a fashion show, International Lacemaking Fair, workshops, exhibitions, craft stalls or guided tours.
Arenys de Mar is one of the most important European towns regarding the bobbin lace. The town has encouraged the tradition since the 17th century and houses —at the Museu Marès de la Punta (Marès Lace Museum)— one of the most prestigious bobbin and needle lace collections in Europe.

XXV Diada de la puntaire general information

The lace day 2012, at the arenys sea town was sunny, and cool, so we had good time sharing with our friendy lace makers our lace pins range
Pins art had also a great succes, and introduced our new lace pins 2012, that were already avalaible at the lace day.

AIN3240 stainless steel pins 32 mm x 0.40 mm
AIN2640 stainless steel pins 26 mm x 0.40 mm
AAN3255 Hardened and tempered pins 32 mm x 0.55
Following with our lace day tradition, our company had an hourly lucky draw with our lace pins customers, for a set of
JABALI and PINS ART products.
These are one of the 2012 Lace Day Folch Draw winners.


Arenys de Mar, 2012 lace day town, CONGRATULATIONS for your organization and lace spirit