FABRIC CLIPS
Flat crossover brass nickel plated Round crossover stainless steel clip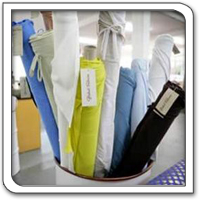 Are you tired to have your fabrics bolts like this?
Your fabrics keeps coming off the bolts.
Keep your fabrics in place without holes, using our fabric clips, made with stainless steel wire and brass nickel plated finish*.
- Clip end balls totally round.
- Highest security when fitted in the fabric, which never loses it's grip.
- Smooth and bright surface with our nickel plated protection*, allowing the
highest corrosion resistance and lifetime's performance of the fabric clips.
- Have your fabric always perfect using our fabric clips.
CONTACT: This email address is being protected from spambots. You need JavaScript enabled to view it.