We would like to introduce you our range hobby creative pins , ideal short pins for crafters, and hobbysts,
The range include pins from 10 mm till 21 mm, made with steel and brass wire, different finishes , with special heads and points, we have made the right pin for each user.
Our hobby creative pins octogonal boxes have our new label identification (L8),
L8 our new label identification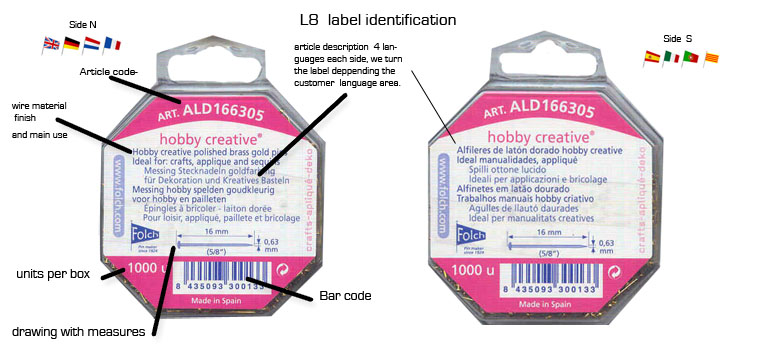 Have you ever wondered what type or size of pin you were using? Now you can quickly refer to the label on the bottom of each box for easy pin identification.
We have added the article description, in eight languages, ( wire material, finish and main uses), depending of our customer area, upon request on the ordering process,we will turn the label, so the end user will read all the detailed info at the back with his own language, and also the article code in the front.
We have added a drawing on scale with mm, with the diameter and lenght dimensions and also our code system informs you about the lenght and diameter of each pin.
AFD1065 means (F) Steel pins - (D) gold - 10 ( lenght mm) 65 ( diameter 0.65mm)
we have avalaible four languages for each label side:
Side N:English -German, Dutch and French
Side S:Spanish, Portuguese, Italian, Catalan

Please advice us what label side do you prefer at the back, for your customer region.
Our pins are made in Spain and are sold in the most of the european countries since 1924.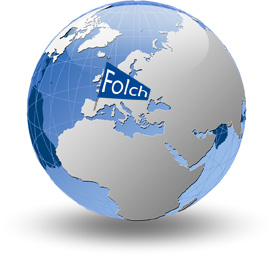 IDEAL FOR CRAFTS - APPLIQUÉ - DEKO-POLYFOAM -SEQUINS
Our ref. wire and finish Lenght Diameter Unit sale
AFN136505 Mild steel nickel plated 13mm 0,65mm 5 boxes 1000 u
AFN166505 Mild steel nickel plated 16mm 0,65mm 5 boxes 1000 u
AFN186505 MIld steel nickel plated 18mm 0,65mm 5 boxes 1000 u
ALD166305 Polished brass gold 16mm 0,63mm 5 boxes 1000 u

iDEAL FOR HOBBYCRAFTS AND HOBBY MODEL MAKING
AFD106505 Brassed steel 10mm 0,65mm 5 boxes 1000 u
ALD106005 Polished brass gold 10mm 0,60mm 5 boxes 1000 u
AFN106505 Mild steel nickel plated 10 mm 0.65 mm 5 boxes 1000 u
There are more sizes, and finish avalaible, although these are our top sales.
Our octogonal box with our L8 identification is ideal for retail shops with desk. floor and wall, displays with loop hangers, prompty
we are going to launch our desk display for our hobby creative range.