For the twentieth time, Folch participated in the lace meeting in Lleida, Spain, organized by the Associació Catalana de Puntaires, (Catalan Lace Association); the lace meeting took place in the Camps Elisis area of the town on Sunday June 7th 2009.

Over 3,000 lacers joined the lace meeting and had the chance to enjoy some cultural events including the sardana dance and Gegants (giants) exhibition, the day was sunny and cool, and gave to the Lacers the best opportunity to show their beautiful works, a great day to chat with friends and enjoy their favourite hobby and find the best tools and publications for their special lace projects, and shopping for lacing goodies.

Folch introduced their new JABALI lace pins at the lace meeting, namely the stainless steel pin 38 mm x 0.40 mm the Color Dome 32 mm x 0.60 mm the small brass pin 10 mm x 0. 55 mm and hard steel 43 mm x 0.60 mm, the four pins were a great success with the lacers.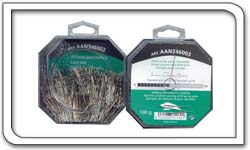 Folch also introduced our new octogonal box for 100 g with hanger.

Our company is always trying to produce the best pin for each lacing technique and we listen to the lacers about their pin requirements. Our primary goal is to satisfy all the lacers that visit us year after year.

Every year our Company Folch has an hourly lucky draw with the lacers for a basket with Jabali products, this year we had the youngest ever winner of our Jabali basket, see picture attached.