Pins Art is a decorative art that combining Color Come pins and sequins, you can create great sparkling pictures.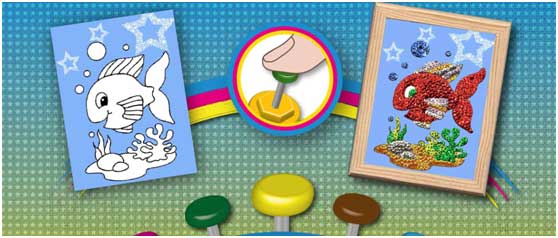 Playing Time - The kids will be happily absorbed for hours with these activities; they will develop hand skills, stimulate their creativity, improve their colour imagination. While they are transforming their favorite Pins Art drawing, they will learn crafts through playing. Pins Art is great entertainment, while fulfilling an educational role! We don't constrain the color pattern; that has to be provided by the Pinsartist and they have the freedom to change and learn.
You can find these educational and playful projects in toy stores, and school stores….
Fun activity time - It is a Fun activity, ideal for activity groups, the teenagers will enjoy his fun craft time, challenging his friends and parents, with their Pins Art abilities, ideal for summer camps, school activities.
Hobby Time - It is Hobby time, Pins Art is a great creative hobby, adults will get relaxation while creating their favorite picture. It is portable and not reliant upon internet connection. It doesn't need batteries.
Crafting Time - It is Craft and Art, ideal for Creative Tourism, Museums, world heritage monuments; you can create your favorite monument.