Crossover clips
On, 10 January 1980 Metalurgica Folch patented from our own development, the brass crossover clip for shirt making, and shirt makers have been using our shirt clips ever since and it has become a standard product for the shirt industry. We can offer brass nickel plated shirt clips, or polished stainless steel 304(SS304).
Our shirt clips have strict quality controls to give the best performance and long life without changing any of the following properties…….
Clip end balls totally round

Distance between shanks of 10 mm, to allow easy use on the shirt

Highest security when fitted in the shirt, which never loses it's grip

Smooth and bright surface with our nickel plated protection*, allowing the highest corrosion resistance and lifetime's performance of the shirt clips

We guarantee that our crossover clips are made
Brass nickel plated- 100 % brass wire with our nickel plating
SS304 100 % stainless steel wire
* Only the brass wire, not in the stainless steel wire. The stainless steel is polished.
Personalized Clips: Clips personalized with the customer brand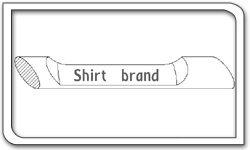 We improved and innovated the same shirt clips with another patent in Spain on 30 January 1998 becoming the flat crossover flat clip that nowadays are the best shirt clips used by high quality shirt makers.
If you are looking for a cost –effective way of saying " thank-you" to your valued customer or you are searching for a way to keep your name in front of that customer (for future sales and valuable referrals.) then consider personalized shirt clips with your name embossed on the clip.
Clips personalized made by folch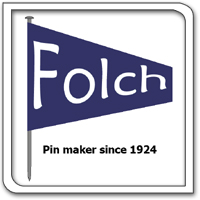 Crossover clip contact area
Crossover normal clip Crossover flat pressed clip
wire diameter 1.10 wire diameter 1.20 mm
the contact area is larger with our flat pressed clips
LOOK FOR OUR YELLOW BOX FOR YOUR QUALITY SHIRT CLIPS