"The first time he felt like a man was the first time he received his newly pressed and folded shirt with pins..."
Nicholson Baker, American writer
Shirt clips and pins have been used for decades for shirt packaging presentation and shirts look better using our SAN JORGE pins. We started to produce pins for shirt makers in 1924 and the brass nickel plated pins were used for decades. As fabrics became lighter, we started using stainless steel wire, which enabled us to produce pins with thinner diameters, our shirt clips and pins program has been growing steadily since then.
We began to develop the dipped headed pin machines in 1985 and with continuous development and newer machines, we have created our Dipped head pin color range that we can offer to you. Discover more about shirt clips and pins in our Types Of Shirt Pins page.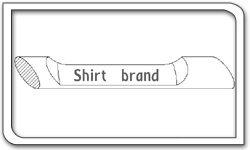 Our company started producing brass crossover clips 30 years ago.
On, 10 January 1980 Metalurgica Folch patented from our own development, the brass crossover clip for shirt making, and shirt makers, and eighteen years later, we improved and innovated the same shirt clips with another patent in Spain on January 30, 1998 becoming the flat crossover flat clip that nowadays are the best shirt clips used by high quality shirt makers. Discover more about our crossover shirt clips in our Types Of Shirt Clips page.
Pins and clips localization in shirt packing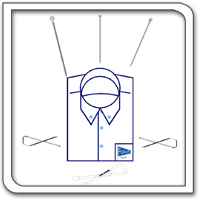 We recommend to the shirt makers to insert a drawing with the distribution of the shirt clips and pins that each shirt has, so that the shirt buyer will know how many pins or clips have been required in the shirt presentation, so it will be easier when the shirt is unfolded. Our shirt clips and pins can be reused afterwards in many home applications.