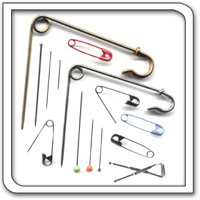 Dressmakers Pins and Safety Pins for Dressmaking and Clothing Manufacturing
Dressmaking is one of the oldest uses for pins over the centuries. In the middle of the 19th century, safety pins were often used to accessorize skirts and kilts. Antique kilt pins were also used to compose elegant outfits. The most popular antique kilt pins were the ones normally customized with pins made of hallmarked silver.

Today, due to the new fabrics appearing in the market, all types of pins, including dressmakers pins and safety pins jewelry, need better performance than ever, we have developed the SSS superfine stainless steel pins to be used with the silk and microfibres fabrics.

Folch is the most recognized domestic pin supplier in Europe. Recognition gained through the commitment of developing innovative products with the finest quality and customer satisfaction. This commitment is transferred to all Folch's brands.

San Jorge dressmakers and safety pins are produced with the most updated technology available. As a result we have strong, safe and durable pins that maintain Folch's rigorous standards.
Straight, safety and Dressmakers Pins – usage
The use of straight, dressmakers pins and safety pins for dressmaking and clothing manufacture is required for several tasks and even today safety and are one of the most useful tool used on dressmaking mannequins.

In clothing manufacturing, safety, are used, for example, for holding pattern pieces in place, to anchor seams as they are sewn, fitting fabrics onto the model or tailor's dummy and to secure all sorts of sequins, trims, etc.
Domestic Pin Supplier – 7 Wonders for Lace Pins
With our seven wonders for dressmaking pins and clothing you will learn about pins and you will discover what pin is best for your lightweight fabric or medium weight fabric, or even woven or non woven fabrics.

Folch, Europe's largest Domestic Pin Supplier, also produces safety pin for arts and crafts for hobbies and craft arts.
Straight pins:
Ball Point (antique kilt pins): rounded tip is specially designed for knits and lingerie fabrics
Bridal: extra fine dressmakers pins for use on delicate or lightweight fabrics
Color Ball: general purpose sewing for medium-weight fabrics
Color Dome: general purpose sewing, easy to see
Dressmaker: general purpose sewing pin suitable for medium fabrics
Dipped head pins: ideal for shirt packing presentation
Pleating: fine, sharp pin for delicate lightweight fabrics
Satin: use for satin and medium weight fabrics
SSS: rustproof pin for use on silk and synthetic fabrics, made with superfine stainless steel wire.
Safety pins:
Safety pins: use for sewing, quilting
Skirt/kilt: decorative pin for skirts and kilts